The United Kingdom's Exit from and new Partnership with the European Union White Paper
7. Protecting Workers' Rights
UK employment law already goes further than many of the standards set out in EU legislation and this Government will protect and enhance the rights people have at work.
7.1 As we convert the body of EU law into our domestic legislation, we will ensure the continued protection of workers' rights. This will give certainty and continuity to employees and employers alike, creating stability in which the UK can grow and thrive.
7.2 Our labour market is a great strength of our economy: there are 31.8 million people in work in the UK and the employment rate is at a near-record high.[23] The Great Repeal Bill will maintain the protections and standards that benefit workers. Moreover, this Government has committed not only to safeguard the rights of workers set out in European legislation, but to enhance them. The past few years have seen a number of independent actions by the Government to protect UK workers and ensure they are being treated fairly, and in many areas the UK Government has already extended workers' rights beyond those set out in EU law. For example, UK domestic law already provides for 5.6 weeks of statutory annual leave,[24] compared to the four weeks set out in EU law.[25] In the UK, women who have had a child can enjoy 52 weeks of statutory maternity leave and 39 weeks of pay,[26] not just the 14 weeks under EU law.[27] The UK also provides greater flexibility around shared parental leave, where, subject to certain conditions, parental leave can be shared by the father of a child, giving families choice as to how they balance their home and work responsibilities. In addition, the UK offers 18 weeks' parental leave, and that provision goes beyond the EU directive because it is available until the child's 18th birthday.[28]
Chart 7.1 – UK and EU employment law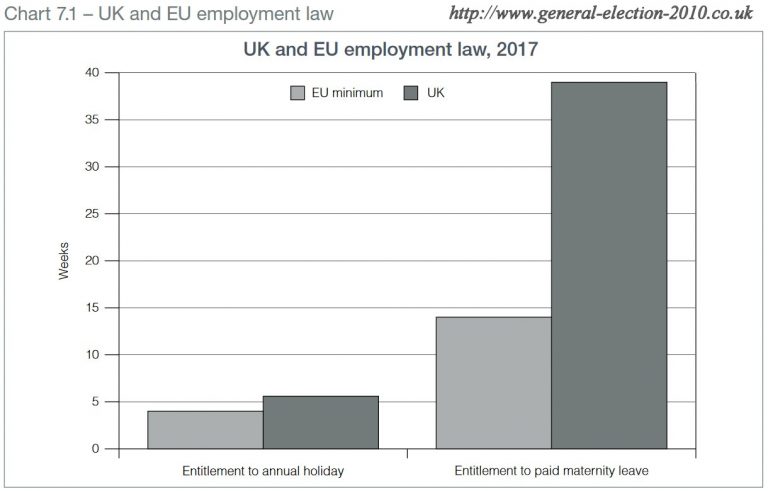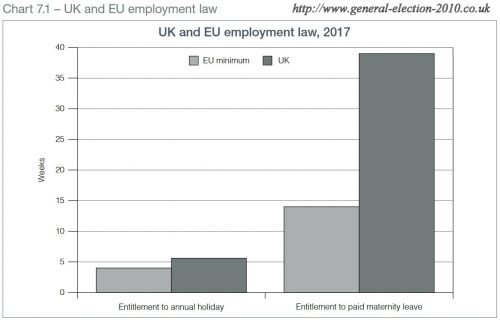 UK and EU Employment Law, 2017
Source – HM Government and European Commission[29],[30]
7.3 These rights were the result of UK Government actions and do not depend on membership of the EU. The Government is committed to strengthening rights when it is the right choice for UK workers and will continue to seek out opportunities to enhance protections.
7.4 In April 2016 we introduced the National Living Wage and saw a 6.2 per cent pay increase for the lowest paid workers in our country over the previous year.[31] We have complemented this measure with strong enforcement action, increasing the enforcement budget for the National Minimum and Living Wage to £20 million for 2016/17, up from £13 million in 2015/16.[32]
7.5 We have increased penalties for willfully non-compliant employers and have set up a dedicated team to tackle the more serious cases. Furthermore, we are appointing a statutory Director of Labour Market Enforcement and Exploitation. These actions demonstrate our commitment to ensuring that hard working people are entitled to a fair wage and that they receive the pay to which they are entitled.
7.6 We are committed to maintaining our status as a global leader on workers' rights and will make sure legal protection for workers keeps pace with the changing labour market.
Specifically, an independent review of employment practices in the modern economy is now underway.[33] The review will consider how employment rules need to change in order to keep pace with modern business models, such as: the rapid recent growth in self-employment; the shift in business practice from hiring to contracting; the rising use of non-standard contract forms and the emergence of new business models such as on-demand platforms.
7.7 Moreover, we will ensure that the voices of workers are heard by the boards of publicly listed companies for the first time. We need business to be open, transparent and run for the benefit of all, not just a privileged few. It is for this reason that we launched a Green Paper on corporate governance in November 2016.[34] This paper seeks a wide range of views on our current corporate governance regime, and particularly on executive pay, employee and customer voice and corporate governance in large private businesses. It represents a decisive step towards corporate governance reform and is yet another example of this Government's commitment to building an economy that works for everyone, not just those at the top.
[23] 'UK Labour Market: Jan 2017', ONS, January 2017.
[24] 'UK Holiday Entitlement', HM Government, October 2016.
[25] 'EU Working Time Directive', European Commission, 2003.
[26] 'Statutory Maternity Pay and Leave', HM Government, January 2017.
[27] 'Pregnant workers', European Commission, November 2016.
[28] 'Unpaid parental leave', HM Government, October 2016.
[29] Individual Member States in the EU may exceed the EU minimum.
[30] 'Holiday entitlement', HM Government, October 2016 (UK entitlement to annual holiday) 'Maternity pay and leave', HM Government, October 2016 (UK entitlement to paid maternity leave) 'EU Working Time Directive', European Commission, 2003 (EU minimum entitlement to annual holiday). 'Pregnant workers', European Commission, November 2016 (EU minimum entitlement to paid maternity leave).
[31] 'Annual Survey of Hours and Earnings', ONS, October 2016.
[32] 'Young workers set for pay increase of up to £450 thanks to increase in National Minimum Wage', HM Government, October 2016.
[33] 'Employment Practices in the Modern Economy', HM Government, October 2016.
[34] 'Corporate Governance Reform', HM Government, November 2016.
Previous : Securing Rights for EU Nationals in the UK, and UK Nationals in the EU
Next : Ensuring Free Trade with European Markets
The United Kingdom's Exit from and new Partnership with the European Union White Paper