This Cartoon is inspired by the 3rd and last live TV election debate.
I found that Clegg has kept on top during the debates, and I thought to myself: "The Hung Parliament is Looming!"
I made this to symbolise the steady advance of the possible Hung Parliament on May 6th, May the best man win
PS: Nick Clegg is Riding….. THE HUNG PARLIMONSTER!!!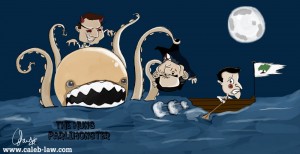 Artist/Author: Caleb Law age: 13