There are a lot of politically relevant videos on YouTube which commenter's on this General Election 2010-2015 website want to post in their comments.
How to Embed a YouTube Video as a Comment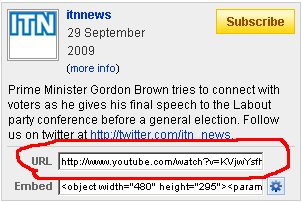 Visit YouTube https://www.youtube.com/supported_browsers?next_url=%2F
Find a relevant political video.
Copy the URL into your comment.
Example URL: http://www.youtube.com/watch?v=KVjwYsfhZ_M
Add whatever other text you wish to add to your comment and press submit.
Please use this feature responsibly, if dozens of YouTube videos are posted popular pages could get very long.